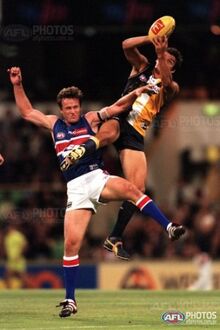 Embley takes a mark. Photo: aflphotos.com.au
Date
Sat, 29 April 2000 (6:40 PM WST)
Score
WCE 15.18.108 - 15.12.102 WBD
An inaccurate West Coast came from behind to beat the Bulldogs in the final term and former Club Champion Chris Lewis was farewelled in an emotional pre-game ceremony but all the headlines from the Saturday night clash resulted from Fraser Gehrig's errant haymaker at Dog Nathan Brown which instead collected umpire Bryan Sheehan. Gehrig somehow escaped suspension following the incident, after favourable evidence from Sheehan and his fellow umpires, while Brown and Tony Liberatore were found guilty of using insulting language towards Gehrig. On-field, Dean Kemp led the way with 33 possessions and a goal.
| | | 1/4 time | | 1/2 time | | 3/4 time | | Final |
| --- | --- | --- | --- | --- | --- | --- | --- | --- |
| West Coast | | 4.6.30 | | 8.9.57 | | 9.15.69 | | 15.18.108 |
| Western Bulldogs | | 3.7.25 | | 9.9.63 | | 11.12.78 | | 15.12.102 |
Goals: Cummings, Gehrig, Wirrpanda 3, Ph.Matera, McIntosh 2, Gardiner, Kemp
Best: Cousins, Kemp, Wirrpanda, Gardiner, McIntosh, Rintoul
Injuries: McKenna (back), Braun (knee)
Reports: Gehrig for recklessly or negligently making contact with an umpire
Milestones: Gardiner 50th game
In: Ph.Matera, Symmons, Embley, Glass
Out: Pe.Matera (calf), Bennett (hand), Williams, Bellotti
"The third term was an ill-tempered, three-goal affair. Several scuffles broke out behind play. The elusive Hudson added his fourth and Nathan Eagleton nailed a great goal on the run. West Coast's only goal came from McIntosh.
The Bulldogs eased 15 points clear early in the final term, Rohan Smith booting an early goal, but McIntosh added his second goal of the match on Grant, and Fraser Gehrig produced a strong mark and clever goal from a tight angle to set up a grandstand finish.
When Cummings booted his third goal at the 13-minute mark, the Eagles had booted four goals in a row and led by 15 points. The Dogs kept going, the Eagles kept defending."[1]
Round 5 (29 April)
Claremont (Stone, Bellotti) vs East Perth (Wooden, Chambers, Williams, Antonowicz, O'Brien, Haynes, Cox)
East Fremantle (Green) vs Peel (Hill)
Swan Districts vs Subiaco (Donnelly, Holmes)
South Fremantle (Gaspar, McGrath) vs West Perth (S.Duckworth)
Bye: Perth
In the leadup to the match the following players were listed as injured or unavailable:[2]
http://afltables.com/afl/stats/games/2000/071820000429.html
↑ Mark Duffield, The Age (1 May 2000, p.SPORT2), "Eagles survive fire"
↑ The Age (27 April 2000, p.SPORT2), "Your club"
Community content is available under
CC-BY-SA
unless otherwise noted.