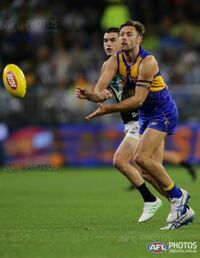 Hutchings in action in his 100th game. Photo: aflphotos.com.au
Score
PA 13.17.95 - 8.5.53 WCE
West Coast hosted an historic Good Friday evening clash, but failed to match Port Adelaide's efforts from the opening bounce and suffered a humiliating seven-goal defeat. The Eagles struggled in wet conditions and the game was all but over by half-time. Jack Petruccelle was a shining light on a dark day, kicking five of his side's eight goals.
| | | 1/4 time | | 1/2 time | | 3/4 time | | Final |
| --- | --- | --- | --- | --- | --- | --- | --- | --- |
| West Coast | | 1.1.7 | | 2.2.14 | | 5.3.33 | | 8.5.53 |
| Port Adelaide | | 3.5.23 | | 9.9.63 | | 12.12.84 | | 13.17.95 |
Goals: Petruccelle 5, Gaff, Kennedy, Ryan
Best: Petruccelle, Sheppard, Hurn, Jetta, Ryan
Injuries: Nil
Milestones: Hutchings 100th game, Petruccelle Rising Star nomination
In: Jetta
Out: Rotham
Late change: Schofield for Barrass (foot)
Schofield replaced Barrass, who was a late withdrawal with a foot injury. Rain throughout the day and during the match made the contest a slippery affair.
"It was pretty clear that we were facing a very hungry side who out-hunted us from the very beginning, really, so the start - the first five minutes - I think we all saw the intent, and we couldn't match it, so where do I start in terms of what we need to work on? But I think a lot of credit to Port Adelaide and the way they went about it. Their attitude this year in general has been pretty aggressive, and we didn't match it early and we didn't match it late.
"The midfield battle - sometimes you're not working hard enough, and sometimes you're working too hard and you don't win that contest and you give up goalside for your players as well. And we had a bit of a combination, at times we didn't look to be working as hard as Port to outnumber, and then when we did outnumber we didn't win that contest and we looked vulnerable on the turnover. I think they had plus-40 turnovers in their front half, so that's not going to cut it for anyone. We're really disappointed.
"...There was a shining light tonight, and it was 'Petch'. And that was our only avenue, really, to goal, which, whilst it's great for him, we like to go through different avenues and not be as predictable as some might think. Unfortunately at the moment, if we didn't get it in Petch's hands we didn't score. Which is great for a six or seven-game player. So we're normally better at complementing those players with others, and we just didn't get that tonight. So yeah, fantastic for him, I'm sure he's really proud, but I think he'd take an average game and a win over that."
"Key forwards Josh Kennedy, Jack Darling and Oscar Allen managed just one goal between them, with West Coast only avoiding an annihilation courtesy of a five-goal haul to speedster Jack Petruccelle.
In contrast, the slick and fast Power had 10 different goalkickers in a dazzling team display.
The Power led by 49 points by halftime - an astonishing figure given the downpour in the first half.
Some Eagles fans left the stadium at that point, such was their dismay at how poor West Coast were playing."[2]
"West Coast showed a bit more fight in the second half when the rain stopped, but the game was already over.
Power co-captain Ollie Wines was superb with 35 disposals, seven clearances and a goal, while Tom Rockliff, Sam Gray, and Sam Powell-Pepper were also influential.
Eagles skipper Shannon Hurn and Brad Sheppard fought valiantly in defence, while Petruccelle's pace helped him to boot his career-high five goals.
But West Coast boasted few other winners in a game where Port Adelaide won the inside-50m count 69-38."[3]
Round 3 (19 April)
West Coast fell to reigning premiers Subiaco at Leederville in a Good Friday curtain-raiser. In poor conditions, the Eagles drew level at the final break but three goals by Subiaco in the last term was enough to seal the win. Jarrod Brander put his hand up for a recall with 23 possessions and two goals, and Keegan Brooksby had 21 disposals and 41 hit-outs.
| | | 1/4 time | | 1/2 time | | 3/4 time | | Final |
| --- | --- | --- | --- | --- | --- | --- | --- | --- |
| Subiaco | | 2.1.13 | | 4.6.30 | | 5.8.38 | | 8.12.60 |
| West Coast | | 0.5.5 | | 1.8.14 | | 5.8.38 | | 6.9.45 |
Goals: Brander 2, Cameron, Foley, Hug, McInnes
Best: Brooksby, McInnes, M.Allen, Fisher, Brander, Grey
Injuries: Nil
Named side:
In: Watson, Ainsworth, Riach, Bines
Out: Schofield, Smith, Ah Chee (AFL), Cary
Late changes: Smith, Ah Chee for Waterman (hamstring tightness), Bines
In the leadup to the match the following players were listed as injured or unavailable:
https://www.afl.com.au/match-centre/2019/5/wce-v-port
https://afltables.com/afl/stats/games/2019/131820190419.html
Community content is available under
CC-BY-SA
unless otherwise noted.