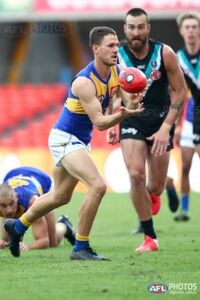 Redden in action. Photo: aflphotos.com.au
Score
PA 13.11.89 - 6.5.41 WCE
West Coast's horror restart to the 2020 season continued with a 48-point loss to Port Adelaide in the Gold Coast hub. Apart from a brief resurgence to start the third term, the Eagles were never in the hunt against the undefeated Power, and managed just six goals for the third straight week. Josh Kennedy returned to form with four goals, and Andrew Gaff again led the side with 27 possessions.
| | | 1/4 time | | 1/2 time | | 3/4 time | | Final |
| --- | --- | --- | --- | --- | --- | --- | --- | --- |
| Port Adelaide | | 4.4.28 | | 6.7.43 | | 10.11.71 | | 13.11.89 |
| West Coast | | 1.2.8 | | 2.4.16 | | 5.4.34 | | 6.5.41 |
Goals: Kennedy 4, Kelly, Ryan
Best: Shuey, Kennedy, Ryan, Gaff
Injuries: Nil
Reports: Schofield for headbutting Z.Butters, Jones for striking J.Westhoff
Milestones: Darling 200th game, Jetta 200th AFL game, Jones WCE debut
Records: WCE lowest score vs Port Adelaide
In: McGovern, Hickey, Cole, Jones
Out: Allen, Petruccelle, Schofield, Rotham
Late change: Schofield for McGovern (ankle)
New: Jamaine Jones (Geelong/North Ballarat Rebels)
Schofield received a recall as McGovern failed to get up from his ankle injury. The match was played in fine and clear conditions.
"We're just not clicking and we are well behind where we need to be in terms of the rest of the competition. And it's got absolutely nothing to do with where we are. We can very clearly separate the two, so don't for one second think it's got anything to do with being in a hub. It's the way we're playing, it's consistency, it's second halves, predictability, undisciplined play. We had a go at stages, but not for four quarters. We need to look and reassess and rework things. But we're up for it. There's time, but time is running out very quickly and we're a long way off.
"...Momentum changes throughout the game all the time , so I won't put it all down to one incident. I thought we lost momentum in that third quarter through a number of things. The predictability of our ball movement, fumbles - just when you think you're out we fumble it, when we should take it over the boundary line we don't. And just when we should put a nice, big kill spoil in we haven't been doing it. They are fundamentals.
"...At times I think our forwards probably didn't win enough contests in the front half and when we did lose those contests we allowed them to rebound too much. I don't know how many forward half turnover scores they had, but they were probably pretty good. That's their go; they're pretty good at locking it in their front half and denying exits. When we had an opportunity to do it ourselves we didn't do it. The effort was there on occasions, but the ability to stop it was not good enough."[1]
"The Eagles were again without All-Australian defender Jeremy McGovern after he failed to recover from an ankle injury and Dixon controlled the air to give the Power a 27-point lead at the long break.
West Coast found their mojo after half-time and surged forward to kick three goals in the first nine minutes and reduce the deficit to 11 points.
But they wasted all of that effort in an instant. Justin Westhoff was given too much space out the back and kicked a steadier, Dixon took a contested mark and booted his fourth and then a frustrated Will Schofield head-butted Zak Butters to hand Port another shot at goal.
When Karl Amon kicked truly moments later, the Power had kicked four unanswered goals in 10 minutes to blow the game apart."[2]
"The loss extended the Eagles' wait for a win on their Gold Coast hub and was the third-straight game with just six majors to their name.
Inaugural Suns talent Dixon enjoyed the familiar confines, marking strongly and kicking straight as the Power's midfield peppered his area in a dominant first half.
Their defence caused the Eagles grief too, West Coast often unable to go forward or even sideways until a three-goal run in the third term brought the margin back to 11 points.
But Dixon's fourth, another booming set shot from 50m, was the first of four in an emphatic reply."[3]
In the leadup to the match the following players were listed as injured or unavailable:
Community content is available under
CC-BY-SA
unless otherwise noted.