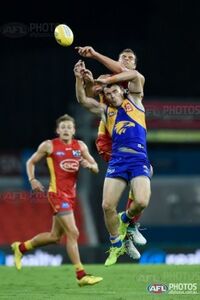 Shuey is spoiled. Photo: aflphotos.com.au
Score
GC 14.6.90 - 6.10.46 WCE
The pandemic-interrupted 2020 season resumed but West Coast appeared to miss the memo, falling to an embarrassing loss to the Suns at the club's new South Queensland hub. Apart from a brief spurt in the second term, the Eagles failed to fire a shot as Gold Coast snapped a 19-game losing streak with a comprehensive 44-point win. Tim Kelly tried hard with 24 touches and eight tackles and Oscar Allen kicked two goals.
| | | 1/4 time | | 1/2 time | | 3/4 time | | Final |
| --- | --- | --- | --- | --- | --- | --- | --- | --- |
| Gold Coast | | 2.0.12 | | 6.2.38 | | 11.4.70 | | 14.6.90 |
| West Coast | | 1.4.10 | | 5.5.35 | | 6.8.44 | | 6.10.46 |
Goals: Allen 2, Darling, Kennedy, Petruccelle, Shuey
Best: Shuey, Gaff, Kelly, Naitanui
Injuries: Nil
Reports: McGovern for striking A.Sexton, McGovern for rough conduct against A.Sexton
Records: Gold Coast biggest win vs WCE, WCE lowest score v Gold Coast
In: Allen
Out: Hickey
Both sides went in as named. The match was played in fine weather under lights but the humidity made for slippery conditions.
"Really disappointing night. They were really good, we were really bad. It was a great leveller, this game. Everything we scouted, they did, and we couldn't match them on the inside, and they beat us on the outside as well.
"You just cannot use that (the hub set-up) as a reason. I think we've got to give a lot of credit to Gold Coast, they're going to be a very strong competitive team. But they're young, we're more mature, and they played like a mature side and we played like a young side.
"...I think it broke down through the contest the whole night, so everything we did was rushed. We didn't win our one-on-ones, and it was one of those nights you needed to win the contest to get some field position, and we didn't, so it was a poor performance."
"The Suns led by three points at quarter-time, but surely the Eagles would blow them away early and not concede early goals again. Nope. Two more quick goals to the home team.
When West Coast stormed clear to kick three goals in three-and-a-half minutes and take the lead, there was an expectation the Eagles would steamroll their young opponents.
Instead, Hugh Greenwood and Matt Rowell swung the game again by kicking goals and they led by three points at the long break.
Then came a third quarter to remember. Gold Coast booted five goals to one, including a second to Rowell after a free kick in a scuffle. This team wasn't going to be bullied."[1]
"The Suns looked a different unit to the team that has so often been blown off the park. It was quite something to see them take it up to the bigger bodies of the Eagles. Rowell underlined his class with a goal on the run on a sharp angle, and Weller was playing his best game since crossing from Fremantle.
It was one thing for the Suns to seize back the lead by half-time. But for them to put the Eagles to the sword in the third quarter was something else again. And Rowell, by now vying for best on ground honours, was killing them: immensely strong through the hips, he looks like he's already in his fifth year.
Really, the Eagles didn't get a look in for the entire quarter, as the Suns piled on five goals to one – the only major for the Eagles courtesy of a 50-metre penalty. Their top-end talent was delivering, including Jack Lukosius, who's struggled to find his feet at senior level since taken at pick No.2 in 2018.
It was a staggering result, even in the context of this aberrant season, and will ask the question of the Eagles early as they remained hubbed in foreign territory, where they struggled to adjust to the slippery conditions. For the Suns, never has a new beginning looked so bright."[2]
West Coast's reserves played a 16-a-side scratch match against the Gold Coast on an outdoor oval at Carrara. With West Coast only have 13 players available, several Suns players filled in on the Eagles' side each quarter. The teams did not keep score.
Appearing for West Coast: Ainsworth, Brayshaw, Cole, Edwards, Foley, Hickey, Jones, Rotham, Treacy, Vardy, Waterman, Watson, Williams
In the leadup to the round the following players were listed as injured or unavailable (expected returns are estimated based on club's description):
| Player | | Injury | | Expected return | | |
| --- | --- | --- | --- | --- | --- | --- |
| Venables | | Concussion | | Season | | (placed on inactive list 4/3/20) |
| Rioli | | Suspension | | Indefinite | | |
| Cameron | | Pubic bone stress | | Managed program | | |
| Hutchings | | IT band | | Managed program | | |
| M.O'Neill* | | Back | | Indefinite | | |
| Reid* | | Hamstring | | Managed program | | |
| Jones* | | Ankle | | Test | | |
https://www.afl.com.au/matches/2015#player-stats
https://afltables.com/afl/stats/games/2020/182020200613.html
Community content is available under
CC-BY-SA
unless otherwise noted.