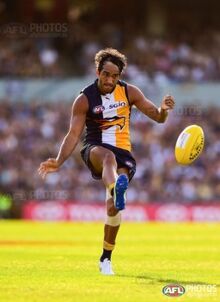 Bennell impressed in his West Coast debut. Photo: aflphotos.com.au
Score
WCE 21.8.134 - 11.3.69 WBD
Adam Simpson's senior coaching career got off to a successful start as West Coast easily accounted for an undermanned Bulldogs side. After the Dogs held pace for much of the first quarter, the Eagles had opened up a match-winning lead and coasted away to win by 65 points. Mark LeCras was electrifying with 27 possessions and five goals alternating between the forward line and midfield, and was well supported by Jack Darling who kicked four goals and applied fanatical pressure on the Bulldogs' defence. Apart from one or two clangers, Eric MacKenzie was solid in defence in his 100th game.
| | | 1/4 time | | 1/2 time | | 3/4 time | | Final |
| --- | --- | --- | --- | --- | --- | --- | --- | --- |
| West Coast | | 4.2.26 | | 9.4.58 | | 13.6.84 | | 21.8.134 |
| Western Bulldogs | | 2.1.13 | | 3.1.19 | | 5.3.33 | | 11.3.69 |
Goals: LeCras 5, Darling 4, Cripps, Kennedy, Shuey 2, Gaff, Masten, Priddis, Rosa, Selwood, Wellingham
Best: LeCras, Darling, Rosa, Selwood, Priddis, Wellingham, MacKenzie
Injuries: Nil
Reports: Wellingham for tripping J.Johanissen
Sub: Sheed for Shuey at three-quarter time
Milestones: MacKenzie 100th game, Bennell WCE debut, Ellis WCE debut, Sheed AFL debut, Yeo WCE debut
New: Jamie Bennell (Melbourne/Swan Districts/Carey Park JFC), Xavier Ellis (Hawthorn/Gippsland Power/Lakes Entrance JFC), Dom Sheed (Subiaco/Mines Rovers JFC), Elliot Yeo (Brisbane/East Fremantle/Booragoon JFC)
The final game of a long opening round began in bright sunshine. Rookie Dom Sheed started in the green vest with veteran Daniel Giansiracusa as the Bulldogs' sub. Offseason arrivals Elliot Yeo (Brisbane) and Xavier Ellis (Hawthorn) made their West Coast debuts, as did promoted rookie Jamie Bennell who earned his spot after a strong pre-season campaign. The Eagles went in with a tall lineup to attempt to stretch the Bulldogs, with Callum Sinclair picked alongside usual ruck duo Dean Cox and Nic Naitanui.
The match got off to a great start when Naitanui's perfect palm down to Selwood resulted in a mark and goal to Darling in the opening minute. The Bulldogs were able to respond when a stray MacKenzie handball was cut off by Robert Murphy, resulting in a goal to Lachie Hunter. Despite West Coast controlling large parts of the play, new Dog Stewart Crameri gave his side the lead when a ball spilled over the back in a marking contest. Hunter had a chance to add another thanks to a perfect delivery from Jackson Macrae but sprayed it wide. Cox, resting forward along with Sinclair, had a couple of chances to goal but sent one wide and saw the other rushed over. It took a strong team effort to record the Eagles' second goal, with a powerful spoil from Ellis knocked on bravely by Darling to Cox, who handballed to the open Cripps. Cripps was then on the end of another forward passage when Sinclair dragged in a one-hander and popped it over the top for the former Saint to run on and add his second.
West Coast continued to press with promising forward entries squandered by tall targets Sinclair and Naitanui dropping marks, before LeCras used his nous to get on the end of one and converted to give the Eagles a 13-point lead. One last forward entry was thwarted when Jason Johannisen took possession before being caught in a Wellingham tackle, with the siren sounding as the Bulldog made no attempt to dispose of the ball. It resulted in a minor push and shove but no free kick as the term ended.
West Coast kicked the first goal of the quarter through LeCras after a long run and a couple of soccered efforts by Darling. A goal to Hunter brought it back to a 14 point lead, but only briefly as a speculative 50 metre kick from Priddis wobbled through for a major, followed by another as Rosa got on the end of the overlap from LeCras to pump through a goal from outside 50. Priddis then gave off to Selwood who kicked truly around the body to push the margin out to 32 points.
The Eagles pressure began to tell and the ball spent plenty of time in West Coast's forward line but Naitanui and Gaff missed opportunities. Eventually Gaff was able to convert after some hard running to get on the end of a forward entry. In the shadows of halftime Naitanui got on the highlight reel with a speccy one-handed mark to spark a forward run, but Cripps put one out on the full, with Masten doing the same on the next sortie forward. West Coast went into the main break with a commanding 39-point lead.
The third quarter began with a suspect holding-the-ball decision against Selwood. Yeo showed his potential with a long bouncing run along the outer wing, and Wellingham ran hard to get on the end of the subsequent Gaff kick but sent his set shot wide. MacKenzie went on an impressive run through the middle but LeCras' kick inside 50 bounced off Kennedy's chest. LeCras eventually had a set shot opportunity of his own, which he put over the goal umpire's hat for his third goal. Another forward push was interrupted by a free kick given away by Kennedy, before Murphy kicked a goal against the flow for the Dogs. It was quickly answered by another great team goal, with a pinpoint Hurn kick straight up the middle marked by Naitanui, who handed off to the running Shuey to drill the goal from 50.
MacKenzie had an uncustomary run along the boundary, taking four bounces before floating a kick across the goalface. Kennedy marked alongside the behind post and ran around to convert and put the margin out to 51 points. Wellingham had a nervous moment after instinctively sticking a leg out at Johannisen. Shaun Higgins broke a lengthy scoring drought by snapping out of a clearance for a major but the Dogs were again unable to record back to back goals, as a long Ellis kick to the top of the goalsquare came off hands and Shuey threw a boot at it, kicking the ball out of the air through the middle for a spectacular goal. It was the final score of the quarter as West Coast went into the final break with a 51-point lead.
Sheed finally got his chance with Shuey donning the red vest over the three-quarter time break. Higgins kicked the first goal of the final term within 30 seconds, but Darling answered at the other end after a relatively soft free kick. An eye catching run by Bennell resulted in a chance for Sinclair but his running kick went wide. Darling then got a hand on the resultant kick-in, deflecting the ball to Kennedy for a goal. Another Darling goal followed from a contested mark and the Eagles lead was out to 64 points, but Murphy cut it back after spoiling Hurn in the back pocket. A superb MacKenzie intercept led to another overlap goal, this time to Wellingham. Wellingham then hit a wide-open LeCras for his fourth goal and a 70 point lead but Macrae answered quickly with a classy left-foot goal out of traffic before skipper Boyd put one through to give the Dogs successive goals for the first time since the opening term.
Crameri got on the end of another one and the margin was trimmed to 53 points. Darling kicked his fourth after a free kick just outside the goalsquare but that was quickly cancelled out by another Macrae goal. Masten added one after snapping truly from a throw-in, and LeCras latched onto a risky Bulldogs' punch into the corridor for his fifth. With players from both sides spent, the two teams played kick to kick for the last five minutes. Young Dog Jake Stringer had a late set shot chance but put it out on the full as West Coast ran out comfortable 65 point winners.
"Xavier Ellis, Jamie Bennell and Elliot Yeo made contributions in their first games for West Coast, but two seasoned Eagles reminded pundits of their value.
Mark LeCras was best on ground, while Matt Rosa racked up 34 disposals as his side's most influential midfielder.
...
West Coast generated 10 majors from their midfielders in an indication they will be less reliant on a wealth of tall forwards to kick a winning score."
"It was the perfect start to Adam Simpson's tenure as the Eagles new senior coach.
After an impressive pre-season, which included two wins over Fremantle, he would be relieved to finally have his first premiership points.
The addition of former Hawthorn player Xavier Ellis already looks like it will pay dividends. He only had 15 touches, but his attack on the ball, particularly early in the game, set the standard of the contest."
In the first regular-season game under the new host club arrangement, East Perth defeated Peel (who themselves were playing for the first time as Fremantle's host club) 12.11.83 to 9.10.64. Brant Colledge impressed running through the midfield, with Adam Carter and Brad Sheppard also getting plenty of the ball and Jeremy McGovern performing well in his new role as a defender. The downside was Simon Tunbridge taking no further part after suffering a head knock in the second term.
Appearing for East Perth: Brennan(*first East Perth appearance), Butler*, Carter*, Colledge*, Lycett, McGovern*, McInnes*, Schofield, Sheppard*, Smith*, Tunbridge*. Reserves: Karpany, Maginness, Main
In the lead-up to the match the following players were listed as injured or unavailable:
| Player | | Injury | | Expected duration | | |
| --- | --- | --- | --- | --- | --- | --- |
| Waters | | Shoulder | | 4-6 weeks | | |
| Barrass | | Hip | | 3-5 weeks | | (placed on LTI 23/1/14, replaced on list by Sinclair on 20/3/14) |
| Hutchings | | Back | | 1-2 weeks | | |
| McGinnity | | Suspended | | 1 week | | |
| Powell | | Shoulder | | Unknown | | (Rookies not officially on list) |
| Newman | | Jail | | Season | | |
http://afltables.com/afl/stats/games/2014/071820140323.html
http://www.afl.com.au/match-centre/2014/1/wce-v-wb
Dale Miller, The West Australian (24 March 2014) "Eagles start with a bang": https://au.news.yahoo.com/thewest/sport/AFL/a/22134271/eagles-start-with-a-bang/
Brad Elborough, The Age (24 March 2014) "Eagles strike early and often to defeat Dogs": http://www.theage.com.au/afl/afl-match-report/eagles-strike-early-and-often-to-defeat-dogs-20140323-hvlyn.html
Community content is available under
CC-BY-SA
unless otherwise noted.