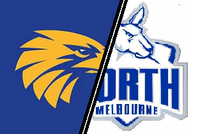 Score
WCE 18.13.121 - 10.12.72 NM
West Coast cruised to victory over North Melbourne, breaking the game open in the third quarter with six goals to one to move into second spot. The Kangaroos goaled inside the first minute but West Coast answered moments later and were never headed again, running out 49-point winners. Josh Kennedy returned to form with seven goals, and Jack Redden had 27 possessions and seven tackles.
| | | 1/4 time | | 1/2 time | | 3/4 time | | Final |
| --- | --- | --- | --- | --- | --- | --- | --- | --- |
| West Coast | | 6.5.37 | | 8.10.58 | | 14.10.94 | | 18.13.121 |
| North Melbourne | | 3.1.19 | | 6.4.40 | | 7.6.48 | | 10.12.72 |
Goals: Kennedy 7, Darling, Rioli, Waterman 2, O.Allen, Hickey, Petruccelle, Ryan, Yeo
Best: Kennedy, Yeo, Gaff, Sheed, Sheppard, Darling
Injuries: Nil
In: Schofield
Out: Cole
Both sides went in as named. The game was played in cool but dry conditions.
"The Kangas are a really good starting side, probably the best since (Rhyce) Shaw took over. We had a big focus on that and I thought we brought some good pressure. Albeit wasn't a massive lead, it was enough to suggest we could help control the game. They're coming off three out of four interstate games and they're a younger side. We thought if we could start well we might be hard to chase down.
"...The supply was a bit different this week than previous weeks. It's been a bit of a grind, the ball movement. (Kennedy)'s playing on really good defenders and he had it again today. They didn't have (Scott) Thompson, so we thought we might be able to expose them through some good, deep entries and he delivered. Darling, Waterman and Oscar Allen, our other talls up front, always looked dangerous. And then they bring in the smaller players; they complement our bigs. But it all starts with our mids. Our mids have been pretty good all year and I thought today they put the foot down.
"...You don't really want to talk halfway through the last (quarter) about getting good percentage, but I did have the conversation. When you get to that stage you want to reduce the oppo scoring. I thought North never gave up all day. They always looked threatening. They looked tired at stages through circumstance, but I don't think they gave up. We'll take the win. We really rate what North have been doing in the last six or seven weeks. They are really well coached. I thought there was some real issues that you've got to deal with when you play the Kangas and I thought our experience probably helped out over the course of the day."[2]
The performance was underpinned by a sustained midfield effort, with Elliot Yeo superb as he won five of his nine clearances directly out of centre square restarts and Dom Sheed, Andrew Gaff, Jack Redden and Luke Shuey all important.
The Eagles had just a three-goal lead as reward for their first-half dominance, with the Kangas remaining in the picture despite being on the back foot.
But a more efficient West Coast swiftly ended the contest in a fruitful third stanza, kicking clear with six goals to one despite having just one more forward entry as their authority was reflected on the scoreboard.
The Eagles had 18 scoring shots to 10 until half-time on the back of a 29-20 edge in inside 50 entries. Midfield quartet Shuey, Sheed, Yeo and Gaff were all prominent around the ball as the Eagles controlled clearance battle, although the visitors lifted in the contest late in the second term."[3]
"After close losses to top eight sides, Essendon and Brisbane, the Kangaroos looked out of their depth early against the reigning premiers.
In the first term, the Eagles smashed the Roos in the fight for contested possessions and it resulted in 10 more entries forward.
If West Coast had kicked better than 6.5 from their chances, the game could have been over at the first break.
As it is, the result in Perth was the worst for the Kangaroos under Shaw since he took over in Round 11."[4]
Round 16 (27 July)
West Coast were thumped by reigning premiers Subiaco at Leederville Oval, with the Lions extending their lead at every change and holding the Eagles to just four goals for the match. Youngster Hamish Brayshaw had a team-high 25 possessions and defender Josh Rotham had 19 touches and 10 marks.
| | | 1/4 time | | 1/2 time | | 3/4 time | | Final |
| --- | --- | --- | --- | --- | --- | --- | --- | --- |
| Subiaco | | 3.2.20 | | 6.5.41 | | 10.7.67 | | 15.9.99 |
| West Coast | | 0.1.1 | | 1.2.8 | | 2.7.19 | | 4.7.31 |
Goals: Brander, Hug, McInnes, Vardy
Best: Brayshaw, Williams, M.Allen, Mutimer, Rotham, Ah Chee
Injuries: Cary (hamstring)
Named side:
In: Foley, Ah Chee, Vardy, O'Neill, Bines, Cary, Salomone, Hobbs, Hug, Kalajzic
Out: Waterman, Schofield, Petruccelle, Watson, Ainsworth, Rotham, Williams (AFL), Smith (hamstring), Grey (suspended), Riach (soreness)
Late changes: Cole, Rotham, Williams for Bines, Kalajzic, Salomone
New: Sam Hobbs (Jurien Bay)
In the leadup to the match the following players were listed as injured or unavailable:
https://www.afl.com.au/match-centre/2019/19/wce-v-nmfc
Community content is available under
CC-BY-SA
unless otherwise noted.