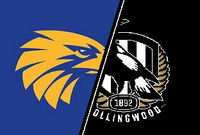 Score
COL 11.12.78 - 12.5.77 WCE
Brownlow
3 S.Sidebottom (COL)
2 S.Pendlebury (COL)
1 A.Treloar (COL)
West Coast lost a thriller to Collingwood despite leading at every change, with the Magpies swamping the home side in the last quarter and edging their way in front to record a 1-point win. The match began as a shootout with both sides kicking six goals in the first term, but scoring dried up in the second half, with the panicking Eagles unable to score more than a single point in the final term. Youngster Jarrod Cameron kicked four first-half goals, his second straight four-goal haul, and Elliot Yeo had eight tackles and 26 disposals to go with his two goals, but West Coast lost Jamie Cripps to a nasty groin injury before quarter-time.
| | | 1/4 time | | 1/2 time | | 3/4 time | | Final |
| --- | --- | --- | --- | --- | --- | --- | --- | --- |
| West Coast | | 6.3.39 | | 10.4.64 | | 12.4.76 | | 12.5.77 |
| Collingwood | | 6.1.37 | | 8.3.51 | | 9.6.60 | | 11.12.78 |
Goals: Cameron 4, Darling 3, Yeo 2, O.Allen, Hickey, Ryan
Best: Yeo, Gaff, Cameron, Darling, Sheppard, Redden, Jetta
Injuries: Cripps (adductor)
In: Kennedy, Cole
Out: Ah Chee (calf), Duggan (ankle)
Both sides went in as named. The match was played in fine and clear conditions.
"It would have been a pretty good game to watch. I think there was three or four chapters within that game that ebbed and flowed. The first quarter, both teams kicked six goals, which I don't know if both teams would have been happy with that. We were getting scored against from clearances, we were probably getting them on turnovers a little bit. We just ran out of steam in the second half really and their ability to sustain effort was better than ours and that's pretty much what it came down to in the last quarter. We couldn't win the ball, we couldn't get any field position and it looked like they just wanted it a little bit more than we did at stages.
"Momentum shifts happen. I thought our defenders early were off and Collingwood's forwards … had the better of us. But as the game wore on I thought they stepped up to the level we've seen before. But for them to lose Moore early made them really small and to lose Cripps for us early made us really tall. So one of those things was going to work in someone's favour and I thought we just looked a bit out of whack in the front half. But that was sort of secondary to the intensity and effort that Collingwood put in, particularly in the last quarter. We were just holding up the dam wall early.
"... I thought their mids as a collective in the last just won the critical contests and you look at the contested (ball) discrepancy, but sometimes that doesn't tell the true picture. But tonight I thought the really important plays it could have gone either way and the ball bounces around, we didn't win any of those and we normally win our fair share."[2]
"The scoring dried up in the third term which suited West Coast who edged a further goal clear. The fit bodies were also drying up for Collingwood who had ruckman Brodie Grundy limping but still out there, Pendlebury out there but nursing a hand injury and James Aish sent to the rooms after landing heavily on his right shoulder.
And the Pies were finding scoring increasingly hard. They were caught between a rock and a hard place. To bridge the 16-point margin they faced at three quarter time they were going to have to open the game up more. And that was going to put them at great risk of being scored against by West Coast's potent attack.
Darling was still a threat and had kicked one of his team's two third quarter goals and gifted the other to Yeo. Midfielder Tom Phillips had kicked the only third term major for the Pies.
The last term was sheer mayhem as the Pies chose the hard road over the free scoring one. They surged and surged but couldn't score. West Coast couldn't clear the ball from their defensive fifty."[3]
"Both teams kicked six goals in the opening quarter, the first coming from the boot of Jack Darling within a minute of the start. Collingwood hadn't even touched the ball.
But the Pies got going and traded blows with the reigning premiers. Eagles small forward Jarrod Cameron kicked three goals in seven minutes midway through the term.
Magpie Talls Mason Cox and Brody Mihocek kicked two apiece, both from marks.
The lead changed six times during the first term. Darling's second goal, kicked just before the siren, left the Eagles with a two-point lead."[4]
Round 14 (14 July)
West Coast celebrated the public opening of their new headquarters at Lathlain Park with a comfortable win over West Perth. The Falcons kiced three quick goals after half-time to close within 11 points but the Eagles shifted to another gear in the last term, kicking eight goals to one to record a 69-point victory. Jake Waterman kicked six goals and Jack Petruccelle had five on his return from injury, and Brayden Ainsworth had 26 possessions in the midfield.
| | | 1/4 time | | 1/2 time | | 3/4 time | | Final |
| --- | --- | --- | --- | --- | --- | --- | --- | --- |
| West Perth | | 2.0.12 | | 5.2.32 | | 9.5.59 | | 10.5.65 |
| West Coast | | 3.5.23 | | 9.9.63 | | 12.11.83 | | 20.14.134 |
Goals: Waterman 6, Petruccelle 5, McInnes 3, M.Allen, Ashman, Brander, Brooksby, Flint, Williams
Best: Waterman, Watson, Peytruccelle, Ainsworth, Smith, M.Allen
Injuries: Smith (hamstring)
Reports: Grey for rough conduct against C.West
Named side:
In: Brander, Petruccelle, Schofield
Out: Foley (soreness), Robilliard, Cary
In the leadup to the match the following players were listed as injured or unavailable:
https://www.afl.com.au/match-centre/2019/17/wce-v-coll
Community content is available under
CC-BY-SA
unless otherwise noted.