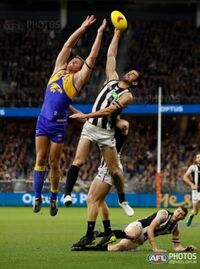 Vardy in action. Photo: aflphotos.com.au
Score
WCE 12.14.86 - 10.10.70 COL
West Coast won a thrilling qualifying final to earn the right to host a prelim, besting Collingwood after a four-quarter arm wrestle in the first final to be held at Perth Stadium. The home side overcame the loss of Brad Sheppard in the first term and a 10-point deficit at the final change, kicking three goals in the final few minutes to secure a vital week off. Elliot Yeo was immense with 36 possessions and nine tackles, and Dom Sheed continued his good late-season form with 27 disposals and seven clearances.
| | | 1/4 time | | 1/2 time | | 3/4 time | | Final |
| --- | --- | --- | --- | --- | --- | --- | --- | --- |
| West Coast | | 3.3.21 | | 6.7.43 | | 7.11.53 | | 12.14.86 |
| Collingwood | | 1.3.9 | | 7.4.46 | | 9.9.63 | | 10.10.70 |
Goals: Darling, Kennedy, Ryan 2, Cripps, Jetta, Redden, Rioli, Sheed, Vardy
Best: Yeo, McGovern, Ryan, Jetta, Sheed, Redden
Injuries: Sheppard (hamstring), Rioli (cut head)
Named sides
Edit
In: Kennedy, Jetta
Out: O.Allen, Schofield
Quarter by quarter
Edit
Both sides went in as named. Earlier rain made for slick and slippery conditions, although the rain stayed away during the match.
First term
Edit
Collingwood had the first chance to hit the scoreboard but Brodie Mihocek's set shot went left of the goalposts. LeCras had a tough opportunity down the other end but his left-foot snap didn't curl back enough. Mihocek added another point after Collingwood scrapped the ball forward. Ryan crumbed a loose ball in the pocket and tried to dribble it through but it failed to turn, running out of bounds. From the ensuing throw-in, Vardy took the ball cleanly and snapped the game's opening goal. West Coast received a series of free kicks in marking contests down the broadcast wing, but the ball ended in the pocket where LeCras' attempt to keep it in play pushed it across the behind line. Ryan intercepted the kick-in but his set shot missed everything. Rioli ran down Josh Thomas inside Collingwood's 50 to save a potential goal.
McGovern found Ryan on the opposite 50 metre line and his set shot went bullet-straight for the Eagles' second goal. Sheppard won a footrace with Jordan De Goey but hurt a hamstring doing so, ending his day very early. Lycett crashed a pack, found Darling who handed off to Ryan for another goal. Travis Varcoe, who came into the match having just lost his sister in a footballing incident, answered down the other end with a classy running goal from a tight angle. Varcoe found De Goey right in front, but his set shot slewed right off the boot for a behind. Down the other end, Yeo threw the ball on the boot but it just scraped through for a point. West Coast went into the first break up by two straight kicks.
Second term
Edit
Collingwood coontrolled territory early in the term but the Eagles' defence held up. Down the other end, Kennedy spilled a mark but his opponent's quick kick landed in the hands of Darling, although the big forward missed his set shot. The Magpies transferred the ball quickly and Mihocek was able to outmark the smaller Duggan and kick the first goal of the quarter. They added another when Taylor Adams picked up a loose ball and snapped truly. Mayne marked just outside 50 and looked to play on, with a 50m penalty being paid against Ryan for running in from behind to tackle him, allowing the former Docker to goal from the goalsquare and put his side in front. Rioli was caught high in the forward line but his set shot was touched on the line. Rioli then found Cripps who hit Kennedy in the pocket, the big man spilled another mark but the ball spilled back to Cripps who goaled to put the Eagles back in front.
It was short-lived with a free being paid to De Goey against Cole for holding on, with De Goey kicking Collingwood's fifth. Sheed received a free in the forward pocket after Adam Treloar handballed straight over the line and, on the wrong side for a left footer, coolly slotted the kick on his right. Mihocek was paid a mark right on the behind line, curling the ball through to swap the lead yet again. LeCras had a rushed shot under pressure but put it through for a behind. West Coast scrapped the ball forward and found Rioli in the goalsquare, who was just able to get his kick off to put them up by three. Jaidyn Stephenson took a strong mark on 50, but he dragged the kick left. He had another opportunity when McGovern coughed up the ball inside 50, and this time made no mistake. West Coast pressed late but the Magpies were able to relieve the pressure by rushing the ball over the line, taking a three-point lead into the main break.
Third term
Edit
Cripps found Kennedy inside 50 who took his first mark of the game, but couldn't convert from near the boundary. Rioli found Kennedy as well but he was unable to slot his kick on the run. Will Hoskin-Elliott had a chance from 50m but hit the goalpost. Barrass was able to spoil De Goey without giving a free away and rush a behind as neither side was able to find the major opening. Hoskin-Elliott hit the post again as Collingwood continued to press. Kennedy outmarked Tyson Goldsack and pumped it forward but only added another behind.
Collingwood eventually broke through, with Adams running unchecked inside 50 and drilling the goal to give the Magpies a nine-point lead. Venables found Kennedy in the left pocket and he was able to convert for a much-needed goal. Shuey then found Venables in a similar spot but his kick didn't curl enough. Scott Pendlebury had a shot on his left down the other end but only added another point. Shuey was run down in the middle of the ground by Varcoe. Thomas received a free kick after being tunneled by Hutchings in a marking contest and converted. Mihocek kicked another behind to give his side a 10-point lead, their biggest of the game, going into three-quarter time.
Final term
Edit
Adams was paid a free kick against Yeo, with both players coming up hurt. West Coast rebounded the ball and Kennedy found Yeo in the left pocket, the veteran slotted the ball from a tight angle to bring his side within a kick. LeCras had a flying shot on his left that went to the line, Vardy threw the ball on the boot and hit the goal umpire who was up against the post, with a goal review awarding a behind. LeCras then found Darling on his own, who kicked his first of the game and gave his side the lead. Sheed drilled a ball to Kennedy who marked low down but his kick was narrow. Brayden Maynard found De Goey right in front and he kicked his second to give Collingwood a two-point lead. Cripps had a speculative left-foot kick that floated to the behind line where Sidebottom ran it over. Pendlebury tapped the ball to Tom Phillips who had a shot that was punched through to restore the two-point margin.
On the wing, a free kick was paid against Levi Greenwood who bumped Rioli off the ball, with both players having to leave the field under the blood rule. Jetta stole a handball just inside 50 and kicked his first goal of the season to give the Eagles the lead once again. LeCras scrambled a kick forward to a dangerous spot and found Darling, who kicked his second for the term to give his side a seemingly match-winning lead. Cripps paddled a ball over the line in the forward pcket and was bafflingly penalised for for deliberate, but Sidebottom fluffed his handball into the behind post to cause a throw-in. The Magpies swarmed forward but McGovern caught De Goey holding the ball. Kennedy marked on a flank and pumped the ball forward where a hacked kick by Collingwood landed in the arms of Redden, the midfielder goaling after the siren to inflate the margin to 16 points.
Club Champion votes
Edit
From the coach
Edit
"I'm assuming it was a pretty good game to be watching. I think it was a quality final. I'm really proud of our players to produce a game like that. You've got to take your hats off to Collingwood and what they came over with and obviously what the Varcoe family's been through as well. It's a tragedy that they've had to deal with. The game itself, I thought it was pretty hot for most of the night. We made some mistakes, they made some mistakes and it ebbed and flowed. In the last quarter I thought we stood up in the contest and our leaders stood up - Kennedy and Darling in the front half.
"...It looks like there's tremendous spirit at both clubs. So the will to win and digging deep is something that we've been working really hard on and how do you judge spirit is a good question. Looking at both clubs, I think there was a fair bit going on. So to stand up like we did in the last 15 minutes and without Shep, we lost him quite early, yeah, I'm really proud of our players.
"...We'll take the bye this week. That was a cracker tonight. That was on. So we've got some sore boys. We'll need to train our boys up and that's, I suppose, part of having the (pre-finals) bye - how you handle that when you have another bye when you win this game. So that's a good problem."[1]
From the papers
Edit
The West Australian
Edit
"West Coast had the job ahead of them as they entered the last quarter trailing by 10 points, their biggest deficit of the night.
Goals to Darling and Kennedy took back the lead in front of a deafening turnout of 59,585, before Jordan de Goey's second goal put the Pies back in front at the 17-minute mark.
Jetta and Darling relished finding themselves in the spotlight and a goal after the siren to Jack Redden made it look more comfortable than it was.
Fan favourites Liam Ryan and Willie Rioli were both outstanding workers in their first final and had an impact in the opening term to help settle any nerves."[2]
"As the Eagles struggled to rearrange their defence with Sheppard sitting on the bench, the Magpies started to hit the scoreboard.
Steele Sidebottom also won the first two centre clearances to get his midfield running.
Josh Kennedy struggled to pull in a mark in the second term, although he had plenty of opportunities. He and Darling failed to kick a goal in the first half.
Kennedy was the matched up with Tyson Goldsack, who was playing his first game for the season after a knee reconstruction in March."[3]
East Perth report
Edit
Elimination Final (2 Sept 2018)
East Perth's season came to an end against Claremont at Claremont Oval with the Tigers leading throughout to record a 28-point win and move through to the semi-finals. The Royals fought back to draw within 8 points in the final term before Claremont pulled away. Brayden Ainsworth had a team-high 25 possessions, albeit with questionable disposal, and Francis Watson added 20 from the backline. The reserves defeated Claremont to stay alive with Callan England kicking two important goals.
Appearing for East Perth: Ah Chee, Ainsworth, M.Allen, O.Allen, Brander, Mutimer, Nelson, Partington, Rotham, Petruccelle, Waterman, Watson. Reserves: England.
Reserves Semi Final (9 Sept 2018)
East Perth's reserves won through to the Grand Final with a come-from-behind win over Subiaco. Callan England, the only Eagles listed player in action, was quiet.
Injury list
Edit
In the leadup to the match the following players were listed as injured or unavailable:
References
Edit
http://www.afl.com.au/match-centre/2018/24/wce-v-coll
https://afltables.com/afl/stats/games/2018/041820180908.html
↑ The West Australian (10 September 2018, p.GAM8), "Word for word"
↑ Braden Quartermaine, The West Australian (8 September 2018), "AFL Finals 2018: Emotions ride high as West Coast seal home preliminary final with win over Collingwood": https://thewest.com.au/sport/west-coast-eagles/emotions-ride-high-as-west-coast-seal-home-preliminary-final-with-win-over-collingwood-ng-b88954675z
↑ Brad Elborough, The Age (8 September 2018), "Eagles swoop late to deny Pies in thriller": https://www.theage.com.au/sport/afl/eagles-swoop-late-to-deny-pies-in-thriller-20180908-p502mh.html
Community content is available under
CC-BY-SA
unless otherwise noted.